Vascular Ultrasound –a method for diagnosing atherosclerosis
Post updated: July 18
Atherosclerosis
(arteriosclerosis) is a chronic degenerative inflammatory disease of the arteries. The progressive atherosclerotic process leads to the formation of plaque inside the vessel, which leads to narrowing of the vessel lumen, restriction of blood flow and ischemia.
Hyperlipidemia is a well-known major factor in atherosclerosis, which can eventually cause cardiovascular events and stroke. The lipid profile shows an increased level of total cholesterol, accompanied by an increase in low-density lipoprotein (LDL) cholesterol ("bad" cholesterol) and reduction of high-density lipoprotein cholesterol (HDL) ("good" cholesterol).
Today, literature data are available, also indicating that there is a close relationship not only between the levels of total cholesterol in the blood serum, but also between individual lipid fractions and the thickness of the intima-media complex (CMM).
The thickness of the CMM is a standard surrogate marker of atherosclerosis and a predictor of subsequent cardiovascular events, regardless of the main vascular risk factors.
This marker can be easily assessed using ultrasound examination of the carotid artery in mode B. Vascular ultrasound is a non-invasive, safe, painless, fast and inexpensive diagnostic method, with which you can additionally monitor the effectiveness of treatment or further progression of the disease, as well as carry out screening examinations.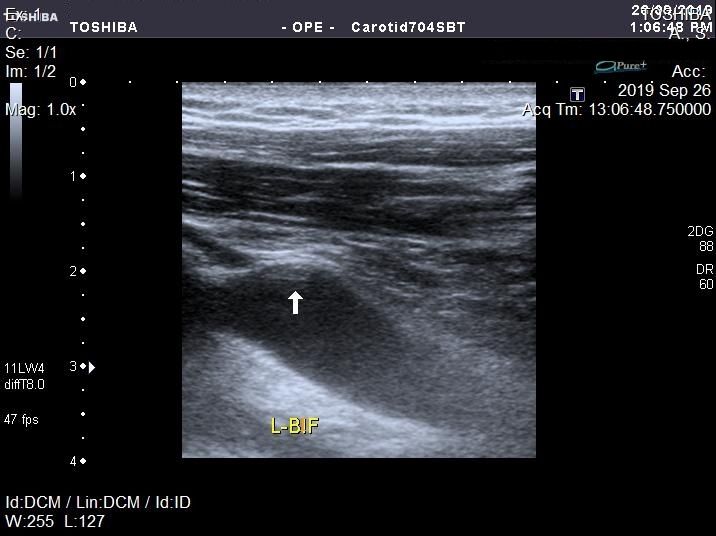 Indications for ultrasound of the vessels of the neck.
Ultrasound examination of the carotid arteries is a convenient window through which the method of screening and primary diagnosis can assess atherosclerotic vascular damage of the entire body.
According to the recommendations of ESC and the Working Group on Aorta and Peripheral Vascular Diseases from 2018, indications for ultrasound of the vessels of the neck:
Symptoms: stroke/transient ischemic attack, visual impairment, suspected carotid or vertebral artery dissection/sudden onset of Claude-Bernard-Horner syndrome, vertebral insufficiency, pulsating tinnitus.
Clinical examination: noise over the vessels of the neck (auscultation), blood pressure difference on both upper extremities.
Dynamic control: carotid artery stenosis > 50%, carotid endarterectomy or stenting.
Assessment of cardiovascular risk: patients with average risk.
Screening: patients with ischemic heart disease and /or diseases of the arteries of the lower extremities, the availability of data on neck irradiation.
Arteritis: giant cell arteritis, Takayasu's disease.
Head injuries.
---
---
---